Homestead 1870, Farmers Market, Bed & Breakfast and Event Venue
Welcome to Homestead 1870 farm, farmers market, bed & breakfast and event venue in DC's Wine Country. The homestead is conveniently located in Loudoun County Virginia wine country close to Washington, DC. The location offers access to many Virginia wineries and breweries as well as access to many historic places, such as Harpers Ferry, WV.
Homestead 1870 is a farmhouse build circa 1870. The home has all of the modern conveniences, but retains all of it's quiet rustic charm. Come relax in a casual atmosphere on a real farm that is well connected to all that the area has to offer. Sip award winning wines on the front porch and watch cars drive by. Take a hike on the Appalachian trail or a tube down the lazy Shenandoah river. Dine on the best local cuisine, or like many, just sleep all day. In any case, do at least one thing, even if it's just a drink at one of distilleries. 
The Bed & Breakfast and farmers market were opened in January 2018. For more information on renting the Bed & Breakfast, hosting events or the availability of homemade goods at the farmers market, follow us on Facebook, Instagram, our text us at 540-751-8088. Reservations for the B&B can be made instantly on AirB&B.
Homesteading is a lifestyle of self sufficiency such as growing, making, preserving food in the most simplest ways right on the farm. Homesteading is a way of life that is friendly to the environment and all that is cared for on the farm. Homestead 1870 brings the homesteading lifestyle to visitors through weekend stays, special events such as weddings, and through the sale of homemade products grown and made right on the farm with the simplest of ingredients.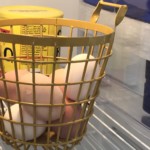 People ask me if eggs need to be refrigerated. The quick answer is, it depends. Do I recommend refrigerating eggs? Yes. Why do I suggesting
Read More »